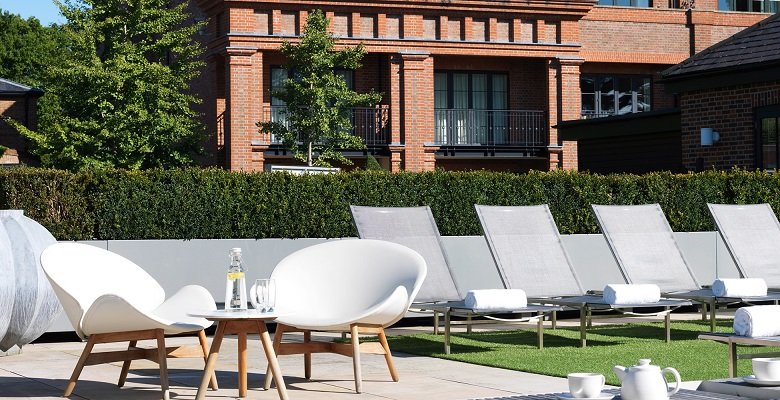 November's Spa of the Month is the gorgeous The Grove. Set in 300 acres of stunning Hertfordshire countryside, The Grove is the ultimate five star retreat. Lovingly restored, the former home of the Earls of Clarendon is situated just 18 miles from London, and is home to an award winning spa, championship golf course and mouth-watering restaurants.
[su_youtube url="https://youtu.be/VlOK9aNZe20″]
From stylish interiors to exceptionally comfy beds, their wide selection of luxury rooms and suites are all designed with your comfort in mind. Put your feet up in one of the stunning Mansion rooms or relax in style in the contemporary West Wing.
With its black mosaic-tiled pool, heat experience rooms and specialist treatment options, the award winning Sequoia spa is an experience like no other. Change into a luxury robe, leave your stresses behind and sink into a world of relaxation and recuperation. Retreat from the world with a tranquil day spa experience or indulge in a blissful treatment. Whatever you have in mind, they can help you relax and rejuvenate in style.
At Sequoia, they take health and wellbeing seriously. With a state-of-the-art fitness studio, exercise classes and customised personal training plans, they provide a holistic experience for the mind and body. Whether you're challenging yourself on a treadmill or meditating in our studio, they can help you to get that spring back in your step.
[su_youtube url="https://www.youtube.com/watch?v=q1-gezeVjAE"]
The Positivity Massage
From £165 / 1 hour 20 minutes
Quieten your mind, release tension and nourish your skin with this holistic, ultimately restorative experience.
Includes: Foot ritual, inhalations, full body aromatherapy massage and scalp massage with Rose Quartz Crystals.
There is so much to experience at The Grove, whether you're jumping on a bike or Segway to ride through our scenic woodlands or taking in the sweet smell of fresh herbs and flowers at Jemima's Kitchen Garden. Choose from Laser Clay Pigeon Shooting, Biking, Tennis, Walks, Archery and more. Further afield, local attractions provide a change of scenery, that's if you have time to venture out after experiencing all that The Grove's 300 acre estate has to offer.