August's Spa of the Month celebrates ESPA at Ginkgo Spa at Santa Marina, a Luxury Collection Resort in Mykonos. Just 10 minutes from the airport and town, Santa Marina makes it easy to explore all the island's must-see attractions – then return to our sanctuary of authentic Aegean beauty at Ornos Bay. Choose from 101 guest rooms and suites, along with 13 villas featuring two to seven bedrooms. Beach-chic interiors offer modern, natural luxury, opening to balconies with hypnotic Aegean views. Discover the only private sandy beach on Mykonos, gorgeous infinity pools, the international-calibre Ginkgo Spa and four options for dining and drinks, highlighted by Buddha-Bar Beach, the Aegean interpretation of the world-famous Buddha-Bar lifestyle experience. Santa Marina invites you to savour the glamorous lifestyle of Mykonos in the island's most fashionable and sophisticated setting.  A constant sense of freedom.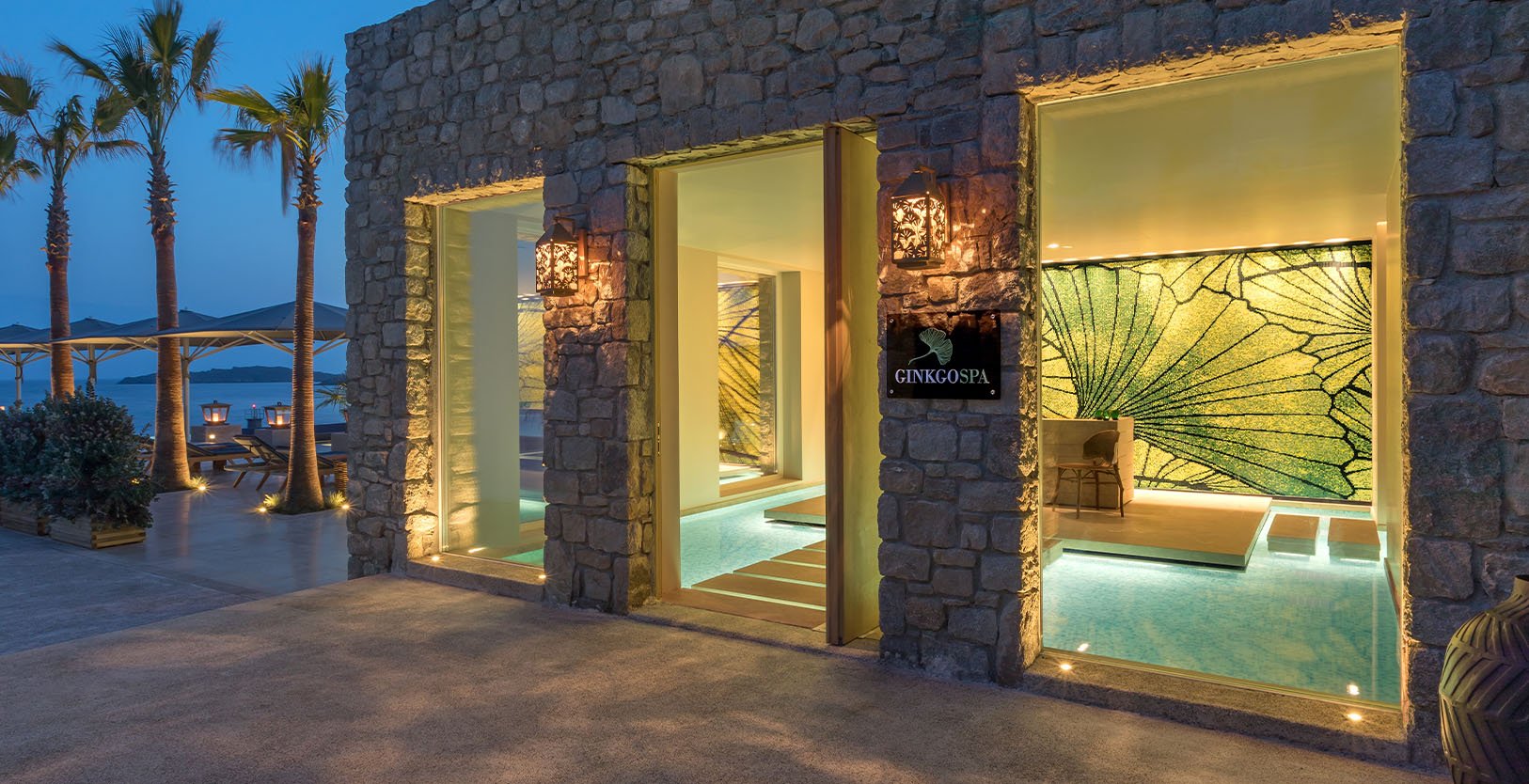 Ginkgo Spa
Bringing an international-calibre spa experience to Mykonos, Ginkgo Spa is designed to revitalise your spirit, expand your boundaries and help you explore new ways to lead a healthier, more fulfilled life. The result is a true state of harmony between mind and body.
Brilliantly designed to combine sunlight, shade, water and stone, this soothingly spacious spa environment measures 423 m2 (4,553 ft2) and features five treatment rooms, including a couples' suite, as well as a traditional Hammam, a sauna, relaxation area and locker rooms for men and women.
Treatments exclusively feature natural skincare with the renowned spa brand ESPA. All products are paraben-free, powerful and effective – providing a journey of healthy ageing and a balanced life.
Ginkgo Spa offers the only traditional Hammam experience in Mykonos. Your experience starts by deeply cleansing the skin with a revitalising body scrub, followed by a full-body foam massage, nourishing marine-mud body mask with aromatic oils of sweet orange and rose geranium, a refreshing hair wash and hydrating conditioning scalp treatment.
The sauna and hammam provide a zone of hot experiences that may be enjoyed independently or in a sequence before your spa treatments. A beautiful setting before or after your spa session, the relaxation area features plush day beds encircled by shallow waters and long flowing curtains.
Resort Recreation
A complete holiday destination, Santa Marina puts everything at your fingertips. From our world-class Ginkgo Spa to our private beach and glamorous swimming pools, this is the epitome of the chic Mykonos lifestyle.
Private Sandy Beach
Santa Marina offers the best beach experience of any resort in Mykonos. It is the only resort with its own private sandy beach, providing an unrivalled sanctuary where you can swim and sunbathe in blissful seclusion at the edge of the blue Aegean. Nestled in a quiet cove – offering protection from the famed Mykonos winds – this curve of golden sand slopes gradually into crystal-clear, shallow waters.
To ensure the ultimate in beachfront luxury, they provide all guests with complimentary cabanas set along our private wooden jetty, as well as sun beds, umbrellas and beach towels. This is the only private resort beach of its size, offering attentive service, chic dining and panoramic sea views. Relax in the shade, a cool drink in hand, and gaze at the mega yachts as they cruise along the coastline.
More than a beach, Santa Marina is like an exclusive club – a meeting place filled with fascinating individuals from around the globe. Santa Marina offers a truly privileged lifestyle, and our resort guests love having the best Mykonos beach experience at their doorstep.
Swimming Pools
Bask in the sun or relax in stylish shade at our two infinity-edge pools, which seem to blend with the blue waters of the Aegean. Both pools feature full food and beverage service from our adjoining restaurants. We also offer private pools in many of our suites and all of our villas.
Treatments:
Signature Body:
MINDFUL MASSAGE 90 minutes Soothe away stress and return your body and mind to the present moment with this holistic and blissfully re-balancing experience. Unique in every way, guided breathing and visualisation combine with deeply therapeutic massage to release physical and emotional anxieties, relax the mind and restore a positive spirit.
Includes: Breath work and visualisation – massage to metamorphic zones of the feet – full body massage – scalp massage with warm Rose Quartz Crystals 
TRADITIONAL HAMMAM ESPA RITUAL 90 minutes (60 for treatment and 30 for steam bath) Discover the relaxing, smoothing and cleansing effects of a traditional Hammam treatment. Relax your body and soothe your muscles in the warm Steam Room prior to the therapy. Experience the Ottoman tradition of cleansing that caresses the skin, revitalises the body and calms the mind. This traditional experience starts by deeply cleansing the skin with a revitalizing body scrub, followed by a full body foam massage, nourishing marine mud body mask with aromatic oils of sweet orange and rose geranium, refreshing hair wash and hydrating conditioning scalp treatment.
Includes: Scrub – foam massage – hair wash and conditioning treatment – mud body mask – steam – body cleanse.
Face:
ESPA NATURAL FACE LIFT 50 / 80 minutes Reveal visibly resilient, healthy-looking, youthful skin. This specialised facial is the complete approach to skin health using cutting edge pre and probiotic technology combined with the same benefi ts of physical exercise to detoxify, invigorate, sculpt and relax. Powerful age defying techniques inspired by Japanese Kobido massage, along with stimulating Jade Rollers give instant results, leaving the skin firm, lifted and beautifully radiant. Includes: Skin analysis with SkinVision™ lamp – double cleanse – steam –Japanese Kobido inspired facial massage – stimulating Jade Roller – sculpting & lifting massage techniques – Lifting & Smoothing Mask – scalp massage
Book your stay at Santa Marina, Mykonos now.